About us
A warm welcome to our website and thank you very much for visiting. Below you will find out more about us and the story of how our charity was started.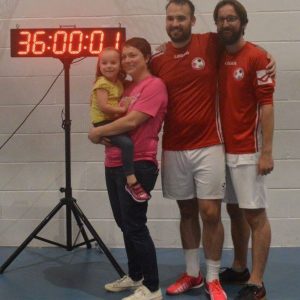 Back at the end of August 2016, one of our trustees Ben had a pretty wild idea to raise some money for cancer charities. It eventually took on a mind of its own and caught the imagination and support of many more people than he ever could have hoped for.
The news his sister was battling breast cancer for a second time gave him the impetus to start his own battle and he jumped in with two feet. Ben decided to organise an audacious world record attempt – playing a mammoth game of 6 a side football, non-stop for 36 hours. The event was a tremendous success, raising over £13,000 for MacMillan, Cancer Research UK and Help for Heroes.
The amazing effort and accomplishment from all involved with the 6 a side fuelled Ben's ambition to help. Seeing how people grouped together and offered the players and volunteers the incredible support to get through the 36 hours only made him want to do more.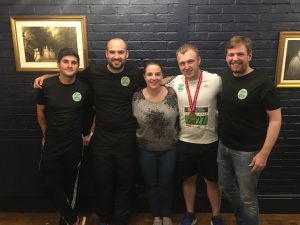 Fortunately, Ben knew people that shared this passion and crazy dreams. Sitting Lucie, Luke, Dan F and Matt down in a room (later to be joined by Dan B, Rob and Peter) to outline the vision for a registered cancer charity got exactly the reaction he had hoped for. As verified Guinness World Record holders there was a tonne of motivation to keep on fundraising and supporting and helping people suffering from cancer.
Not knowing how the journey will go is daunting, but we know that we are going to give everything we can. As has already been demonstrated, we cannot do this without you and we are grateful to everyone that has supported us on this journey so far.
Above all, Kicking Off Against Cancer as a registered charity was set up with one very simple aim, to help and support those that are affected by this awful disease by providing respite for people going through treatment and helping them make memories with the people closest to them that will last forever. It is an honour and privilege for us to be able to help make them for people going through some of the most difficult times.
Your support has already contributed to creating once in a lifetime memories for a variety of people. From arranging days out and weekends away for families to donating toys and games to a children's hospital and arranging hospitality trips to music/sporting events.
We are incredibly humbled by the people we meet and inspired by the stories we hear, and this drives us to keep pushing and to help more and more people. We are also always on the lookout for new causes to help and you are welcome to get in touch to suggest any good cause. All suggestions will be discussed and considered carefully and if within our means to help then it will be done.
Now that you have read more about us, we would like you to join us, so we can help those suffering from this unbelievably cruel illness and in providing any of your help however big or small, you will always find five people hugely grateful for whatever you can offer! Giving up your time, donating, or just spreading the name of Kicking Off Against Cancer, it all helps.
We have many more fun filled events lined up and would love you all to help us grow our charity so we can ALL make a real, positive difference to people's lives. 
Thank you,
Team KOAC