Arianna – The Real Wonder Woman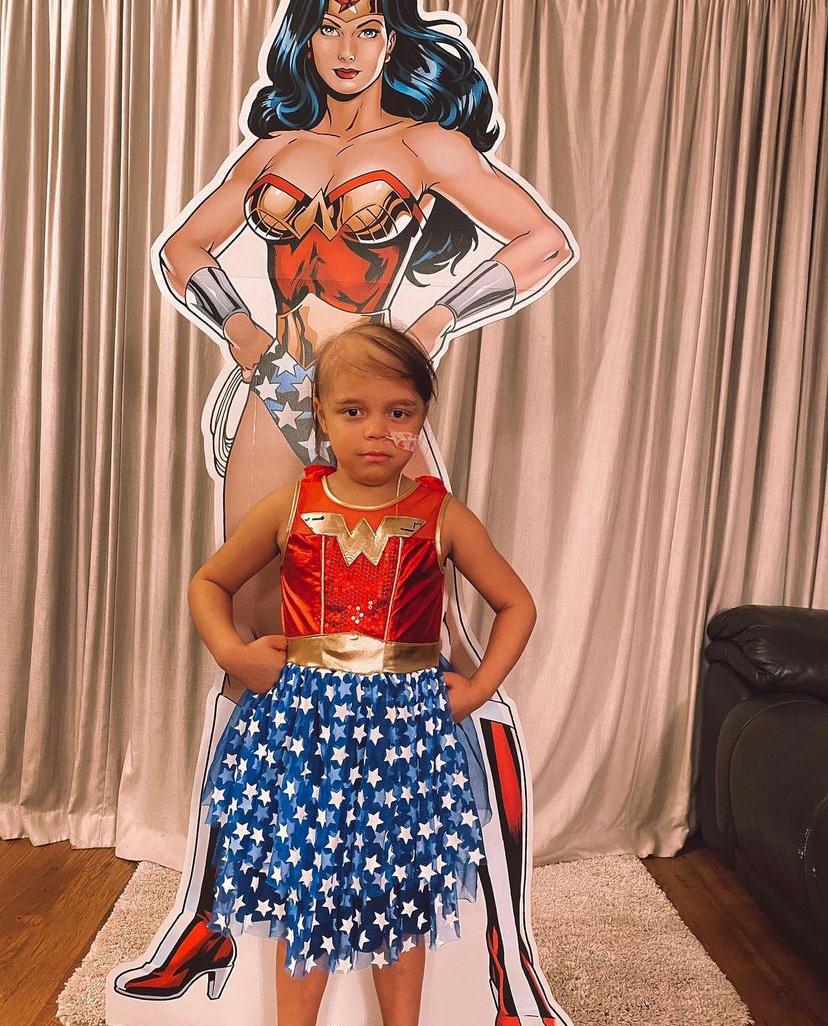 We started to follow Arianna's journey on Instagram earlier this year and it wasn't long before we saw exactly how amazing the real wonder woman was.
Arianna has been diagnosed with Stage 4 high risk neuroblastoma – a form of aggressive cancer that is almost always found in Children, with a survival rate of only around 50%. The family knew very little about it when their world was turned upside down in November 2021.
We contacted Arianna's mum and asked how we could help. Sending the family away at this time was going to be difficult as Arianna often spikes a temperature which can result in hospital stays. Abi and Chris were weeks away from welcoming their 4th daughter, so we tried to get them all away for a night at the nearby Tewin Bury Farm for a family sleepover. However, the day before Arianna's sleepover she became unwell and had to be admitted to hospital where she spent the weekend.
Abi got back in touch a few weeks later and we rebooked everything for Arianna's birthday weekend. The family enjoyed their first night away as a family of 6 just 5 days after baby Raya arrived.
We were able to send some sleepover essentials to the hotel to help make their stay fun but also comfy!
Abi said: "Once again thank you so much for making our day extra special for us all as a family. I can't tell you just how much fun we all had." "The girls have had the best time – the bits you arranged are just amazing."
The treatment that Arianna needs is not currently available on the NHS and the family are spending everyday fundraising as much as they can to raise the £300,000 needed to take her to the USA to receive the treatment.
If you are able to help the family get within reach of their target, you can text ARIANNA and any amount up to £20 to 70085. For example, to donate £5 text ARIANNA 5 to 70085. You will be charged the donation plus your standard network charge.
A very big thank you to Mary for the donation to send Arianna away. Also, a big thank you to Tewin Bury Farm Hotel for helping us and changing the dates when needed, the Candy Bros for the donation of the sweet box – it went down a treat! And Linda Bakes Cakes for the beautiful handmade wonder woman cupcakes
We are sending all of our love and well wishes to the family as their treatment and fundraising journey continues. If you would also like to follow the journey, search Arianna, The real wonder woman on Instagram and Facebook.