World Cup 2018 Predict the Score Competition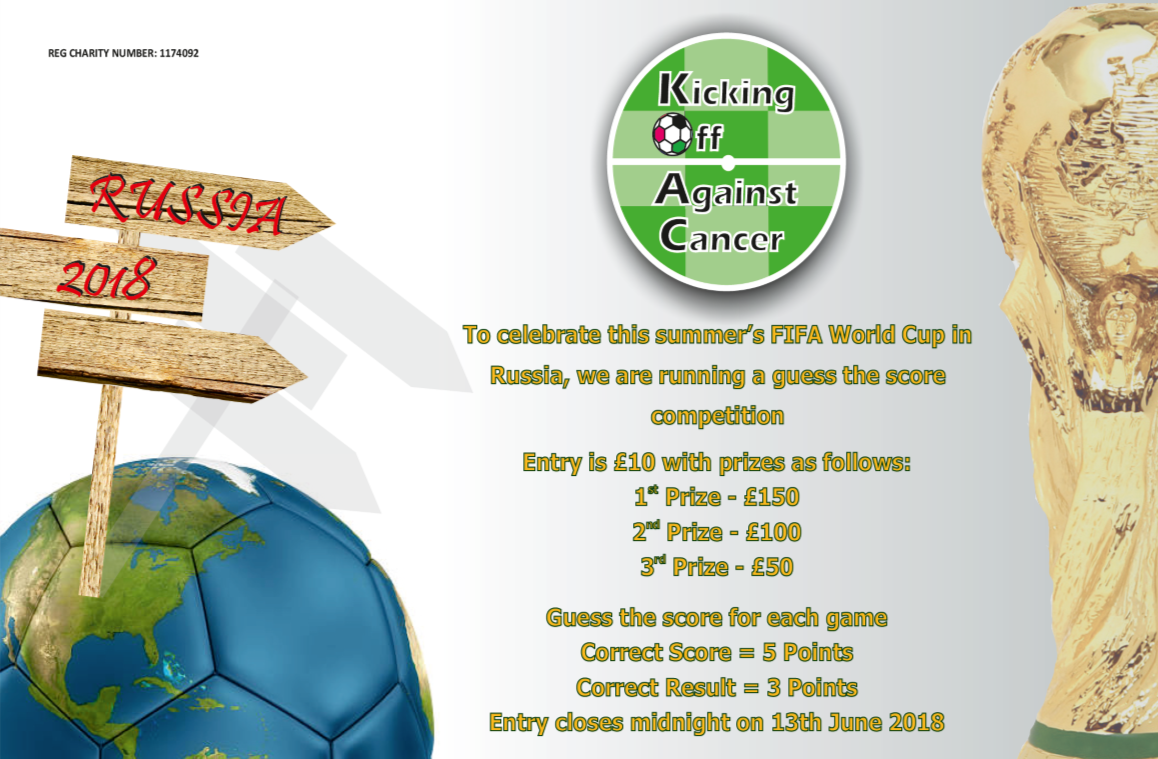 Predict the score of the 2018 World Cup matches and win big with Kicking Off Against Cancer. Whilst also raising money for good causes in the meantime!
The rules:
Points will be scored for each game: 5 points for each correct score 3 points for a correct result.
Round one will be close at 23:59 on June 13th, we will need the predictions for all the group games shown on the entry form. Any missed games will be classed as an incorrect score. No refunds will be offered if you miss closing date.
A further four rounds will be emailed to each entrant, 1 for the last 16, 1 for the quarter finals, 1 for the semi finals and 1 for the final/3rd placed playoff. Entry dates for these will close at 23:59 of the day before the first listed game in that round. These rounds will be sent via e-mail on the following days:
Round of 16 – Thursday 26th June 2018 (after last group game)
Quarter Final – Wednesday 04th July 2018
Semi Final – Sunday 08th July 2018
Final & 3rd Place – Thursday 12th July 2018
Entry forms can be changed up until the deadline for that round.
Cost of entry is £10, this must be paid before the first closing date, forms will not be accepted if payment has not been made.
Players will be put into a league table which will be emailed out once to all entrants after each round of this competition.
The prizes will be split as follows:
1st Place (the highest total number of points after the World Cup Final) = £150
2nd Place (the next highest total of points after the World Cup final) = £100
3rd Place (the next highest total of points after the World Cup Final) = £50
In the event of multiple entrants finishing on the same amount of points two tie breaker questions will be used to decide the
winner: The total amount of goals scored in the 2018 FIFA World Cup, followed by; The total amount of yellow cards in the 2018 FIFA World Cup.
The goals tie breaker will be used in the first instance with yellow cards only used if the first option has not decided a winner.
All decisions made by Kicking Off Against Cancer are final
Full terms & conditions of entry can be found below.
PLEASE DOWNLOAD AND RETURN THE ENTRY FORM BELOW ALONG WITH PAYMENT AND YOUR PREDICTIONS TO:
[email protected]
World Cup Predictions Entry Form & Rules
World Cup predictions -Terms and Conditions
**Existing Entrants**
Click here for the current leaderboard