Football Merchandise Online Auction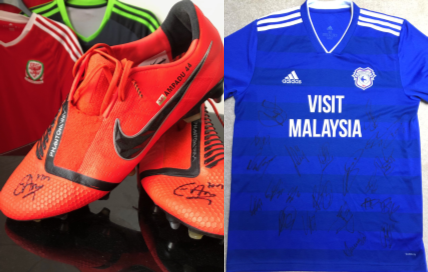 **The auction is now closed**
During our recent successful World Record Attempt, we were kindly donated a couple of bits of football merchandise. We have decided to give our supporters the opportunity to purchase these highly desirable items in the form of an online auction.
Item one is a Cardiff City shirt signed by the 2018/19 Premier League squad. We thank Cardiff City F.C. for arranging this, and for their support during the World Record Attempt.
Item two is a pair of football boots, signed by RB Leipzig (on loan from Chelsea) and Wales defender/midfielder Ethan Ampadu. We would like to thank Ethan for his kind donation, arranged with the help of a family connection of one of our world record players – Gareth Davies.
Auction Format
The format is simple. Make your bid, and we'll be in touch to let you know if you are successful or not. The winning bids will be announced at the end of the auction period on Tuesday 10 September at 7pm.