World Record Attempt Update – A Match Report With a Difference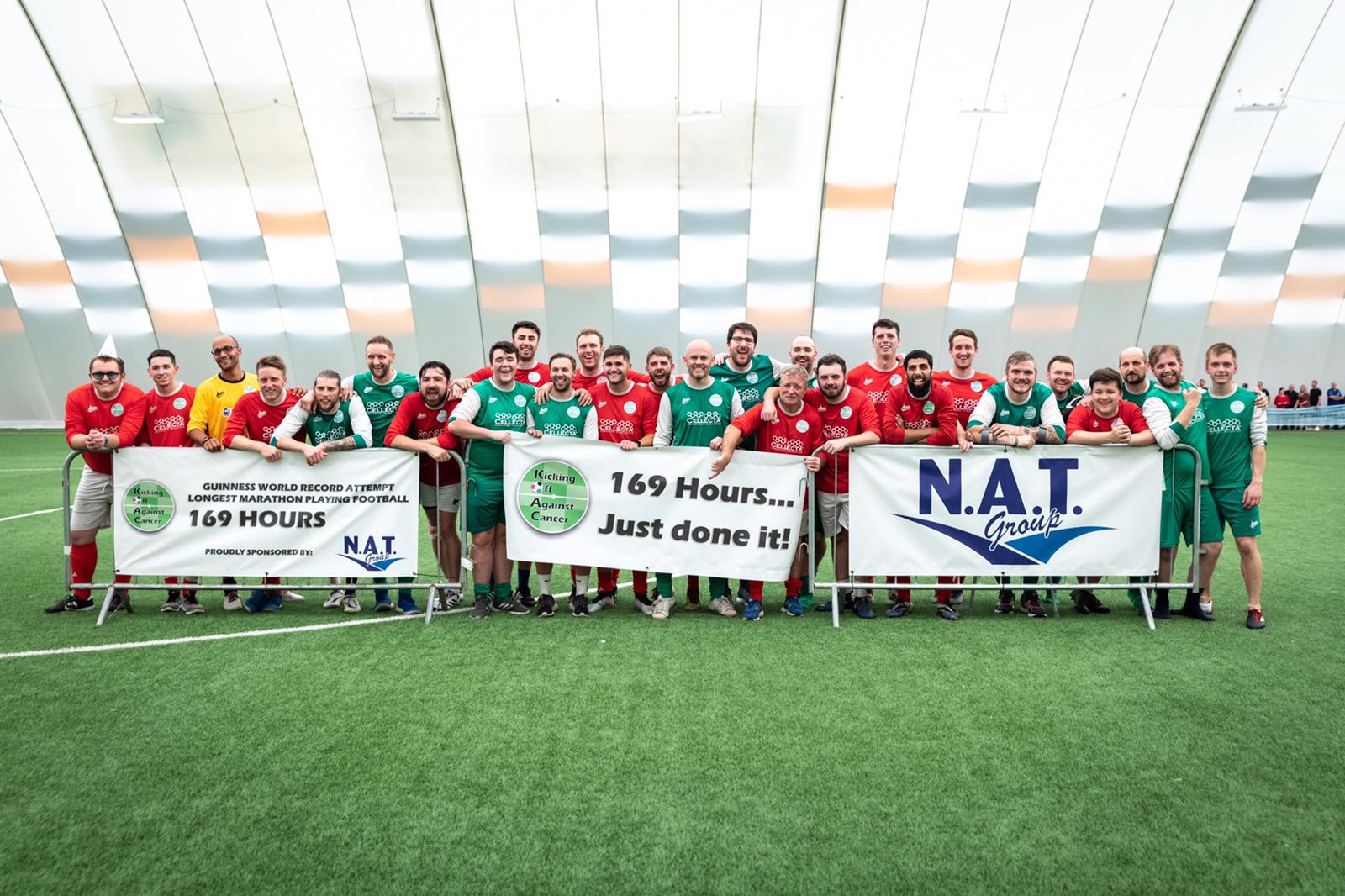 After 4 weeks the dust has now settled on our World Record Attempt for the Longest Marathon playing 11-a-side football, so we are long overdue a match report. As you are probably aware, the attempt was a huge success with us successfully completing 7 days – 169 hours of continuous football! We are currently in the middle of collating the video footage together with the witness log books in preparation to send to Guinness World Records for the attempt to be officially verified, but whatever the outcome, we completed what we set out to achieve – playing football for 169 hours breaking the existing record.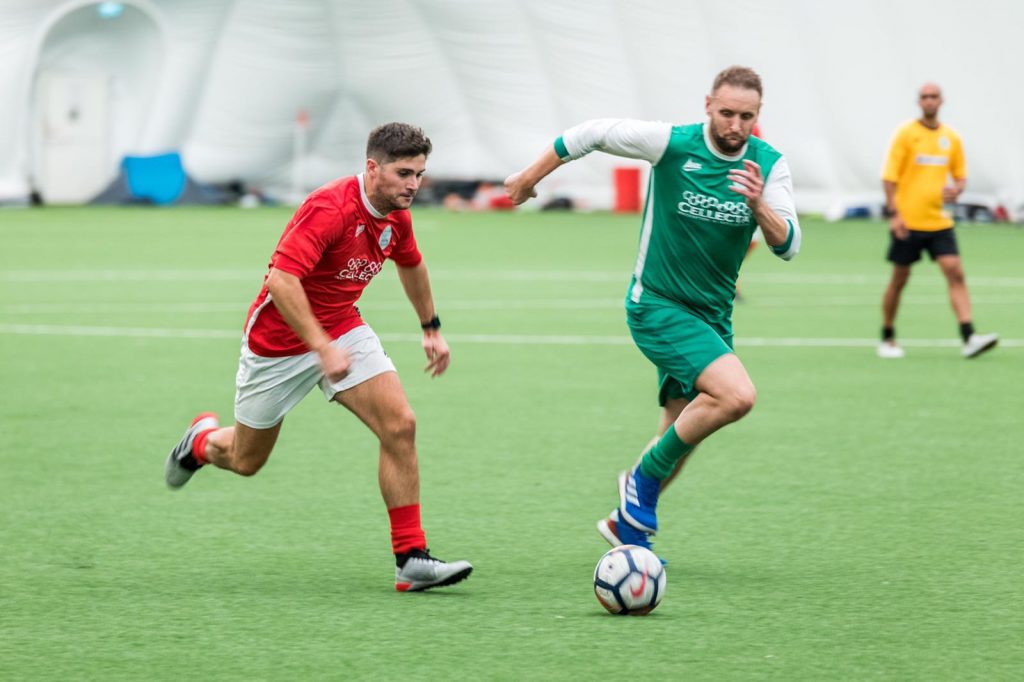 At 5pm on Sunday 14 July, 28 players assembled at the Air Dome, Cardiff City House of Sport, full of anticipation for the week ahead. After a brief warm up it was time to kick off. Players numbered 1 to 11 started the match at a frantic pace for the first 2 hours. It was more akin to a Saturday afternoon league encounter than marathon pace! Witnesses reported struggling to keep up with documenting key events and there were numerous concerns mentioned among players that the pace was too quick. "We should remember this is a 7-day game and slow it down lads!" were the shouts. However, the competitive nature of the players continued to come to the fore, with everyone playing at near full tilt, chasing down lost causes and every loose ball. Substitutes were eager to get on at every opportunity and were a welcome break for those coming off after the effort that they had exerted.
---
However, after the initial exuberance of the first few hours the game started to inevitably slow down. Legs began to get tired and people began feeling the pace. Then came the first 'dark hours'. The sun went down on the dome and the lights were switched on. Players' natural body clocks meant that their bodies started to switch off – expecting sleep as their normal daily patterns would allow. But there would be no sleep apart from a few short breaks as a substitute. It soon dawned on everyone just how tough this challenge would be. It surpassed everyone's expectations with not only how physically demanding, but perhaps more so how mentally draining the challenge of playing 7 days of football would be.
---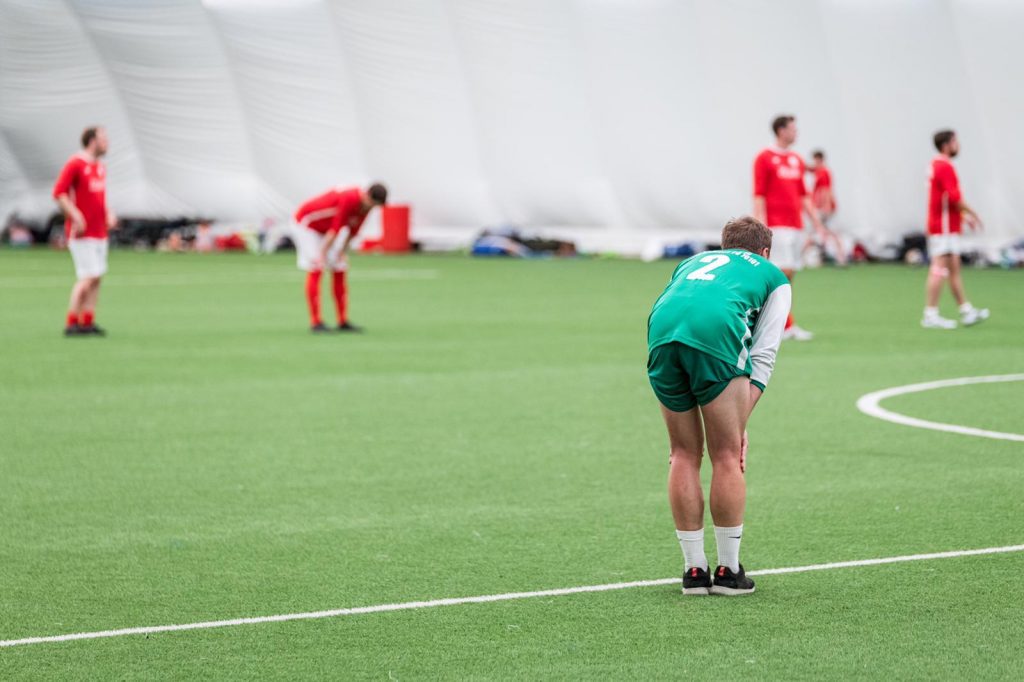 The nights were tough. It would be a regular occurrence to see players struggling to even stand due to the lack of energy. Regularly the game would slow down to walking pace and here is a good point to thank all the officials who took part in the attempt. Without you all, this whole event would not have been possible. Thank you for your efforts, particularly those who officiated during the 'dark hours' when it was not much of a spectacle and there weren't too many decisions to be made, and those who covered multiple shifts. We will be forever grateful for the time you gave up helping us get through this event.
---
A special mention in this match report must go out to Mr. Tim George. This man took a week off work to come and live with us in the dome, officiating shifts as and when required and motivating the players when they were going through bad spells. He ended up officiating around 90 hours of the attempt in total. Thank you, Tim, you absolute legend!
A further thanks must also go out to the witnesses. Again, without you, the whole attempt would not have been possible. At all times this was a difficult task that required 100% concentration for the 4 hour shifts in order to log every key event for the duration of the match. We appreciate it massively.
As per Guinness rules, a 5-minute break was built up every hour. So, after 12 hours everyone stopped playing for one hour and left the dome for a shower and a hot meal. Thanks to the staff at Cardiff City House of Sport for looking after us during these breaks and at all times during the event. Also, a special thank you for all the donations of food and to the volunteers/spectators who made/brought food during these breaks or at any other times. We cannot emphasise enough how much of a morale boost this was.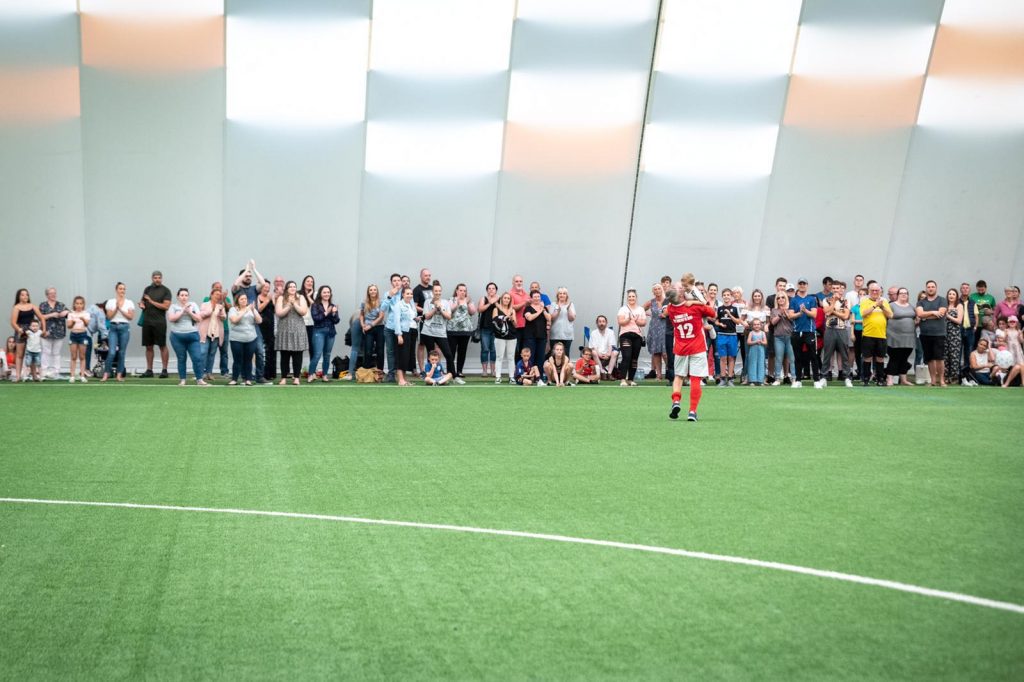 In fact, even just seeing a friend or family member enter the dome to watch was a huge lift to every player often just when it was most needed. Thank you to every spectator who came down to watch, particularly those who celebrated with us at the final whistle! Depending on when you came you will have seen a wildly varied standard of football, but rest assured whenever a spectator was present, every player took heart from this and raised their game.
In addition, we would like to extend a special thanks to all the volunteers who gave up a large part of their week helped keep the players' going in a variety of ways. Jonny Nelson and Glen Hillier for providing massage/chiropractic essential body maintenance, and of course Graham Banks who was there providing massage and general health advice throughout the week and who also lived in the dome with us. Also, Michelle Kelly who used her podiatry skills to great effect given the inevitable blistering and sore feet.
It must be said that during the first couple of days of the attempt, there was a sense of doubt in the air over whether we would complete the 169 hours. We were depleted from the start, having 28 players out of a maximum 36 making the challenge even more difficult. However, what a fantastic 28 you are. An incredible bunch of people demonstrating amazing mental strength and character. Absolute warriors every one of you. You picked each other up during the darkest of times and the exceptional banter got each other through. There were ups, downs, tears of joy and pain. There were tired and emotional rants, deep and not so deep conversations and moments of absolute belly laughter. The power that team spirit, character and how simply talking to each other can have on getting people through the darkest of times was evident, and after getting through this we are now brothers for life.
On day 2 just as morale among the players was at its lowest, charity chairman Ben read aloud an emotional letter from his sister to her family that was written just before she passed away. There was not one dry eye in the dome. It helped give the players an added focus and perspective, reminding them of their individual motivation for taking part. It seemed to strengthen their already steely resolve to succeed in this attempt.
From then on there was no doubt we were going to go the distance. The remaining days can be characterised by peaks and troughs in the standard and nature of the game. There were quiet moments where everyone was struggling, and the game was walking pace and then there were hours of competitiveness akin to the first hour where everyone inexplicably found the energy from somewhere deep within. This culminated in arguably the best period of the match – hour 169. The dome was packed full of friends and family to see everyone through to the final whistle. Cue an outpouring of emotion from everyone. 23 hours a day spent living in the dome, surviving off 2 hours sleep per day, physically and mentally exhausted. We had done it!
121

117

108

100

101

099

095

104

142

130
See all images of our 169-hour Guinness World Record Attempt in our gallery section (opens in new tab).
However dark some of the moments were in the dome, they are nothing compared to what people suffering from cancer go through daily. In the 169 hours we played football for, over 6000 new cases of cancer would have been diagnosed in the UK. So, we come to the difference in this match report, the main reason everyone involved took part – fundraising for our charity so that we can help make memories that will last a lifetime for as many people suffering from cancer as possible. 4 weeks on we have been able to take stock of all the fundraising efforts of the players and kind donations from people and sponsors alike, along with some of the national exposure our small charity has received. This World Record Attempt raised over £22,000 – an incredible effort and we thank you so much for your support. Rest assured your donations will continue to be used by us to create priceless life moments for people that will never be forgotten.
Anyone who was involved with this event be it playing, donating, spectating, volunteering, witnessing or officiating can be proud they helped to make a real difference to people's lives, providing respite to people suffering from cancer and helping to bring small pieces of happiness in the darkest of times.
Final score: Reds 980 – 950 Greens
Money raised: £22,000+
Diolch yn fawr! Thank you so much!
Team KOAC