A Day Out With Dawn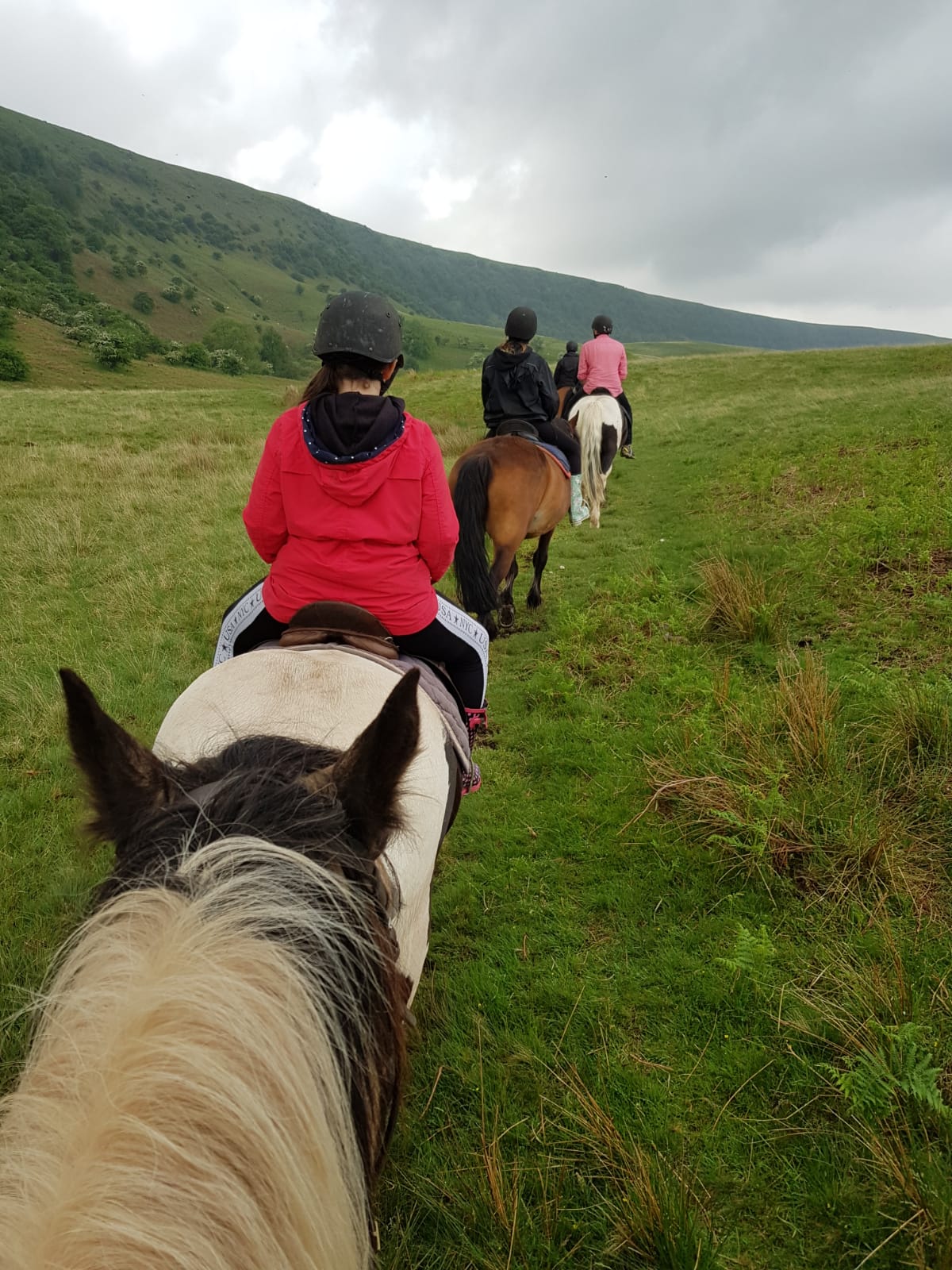 As you may have seen from a prior post, Kicking Off Against Cancer has been in contact with a wonderful lady by the name of Dawn Wilson. We first met Dawn a little while ago in a coffee shop in Ystrad Mynach, South Wales. Having been so moved by Dawn's story, bravery and attitude to her diagnosis of secondary breast cancer we knew that we wanted to help make some memories for Dawn and her amazing family.
It is testament to these lovely people that they didn't want us to go to too much trouble organising there day, I believe Dawn may have said, "Only if you're sure" at least twenty times.
The girls had been to a pony trekking centre in The Brecon Beacons when they were a bit younger and they explained that while they had enjoyed it, Maddie (Dawn's youngest daughter) had probably been a bit young when they went the first time.
Armed with their ideas for their day, we set about organising a day out during half term at The Grange Pony Trekking Centre just outside Abergavenny.
When we arrived at The Grange, via a monster detour thanks to our sat nav, we found Imogen, Maddie and Bethan (Dawn's sister in law) all sat on horses ready for the mornings trek. The only issue at that point was there was no Dawn!
Yvie, Dawn's step daughter, had not been very well, but this didn't stop Dawn from driving to pick her up, hence her not being there just yet. Sadly, on her wa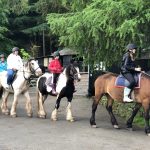 y to grab Yvie, it was decided she just wasn't well enough to join us.
The sight of Dawn driving into the carpark, striding to get her riding helmet, waving a hello and then jumping onto the horse with minimal fuss is something I personally won't forget!
With all four now astride their horses, the trek across The Black Mountains could begin. The morning trek lasted for around two hours as the ladies took in some of the amazing scenery. As we didn't think we would keep up with the horses, we didn't follow to see this and were reliant on the stories being retold by the women when they arrived back.
The four of them sat in the back garden of the house enjoying some well-earned lunch, Dawn and Beth describing
 the spectacular views they had seen while Imogen and Maddie told us all about their horses, Merlin and Storm. It was at this point that one of the girls asked why we weren't riding with them… Thanks Maddie.
Unfortunately for the pair of us, Dawn thought this was also a fantastic idea and before we knew it they had roped The Grange into allowing us to join them for the afternoon session. Not what was in the plan, but it was their day and we have always said, we want to make it memorable for the family. The vision of Luke and I sitting on a horse trying not to fall off will certainly be memorable!
So with a couple of awkward additions we set off on the afternoon trek.
With Imogen leading the way and looking like she had spent her life on a horse and Maddie behind me reminding me of the instructions and how to steer my horse we trekked around the beautiful scenery, through rivers and over big rocks, we even went for a trot – I can confirm trotting is not fun.
What it did allow us to do, was talk a bit more to the girls and spend more time with the family than we had envisaged and if we are honest, that made it a lovely day for us as well. I won't pretend that I know them well after one afternoon pony trekking, but I have seen enough to know what an amazing family they are.
We put the horses back and gave them a quick brush, this was optional, but by this point I felt Warrior and I had bonded and a quick brush was the least I could do. He had certainly been better to me than Aaron had to Luke. Maddie was re-telling stories of the afternoon excitedly to us all, while Imogen hounded her poor mother for horse riding lessons (sorry Dawn). What happened next shouldn't have come as a surprise but still caught me off guard a little, when with a big hug the ladies thanked us for a lovely day.
I could not emphasise this enough, but once again Dawn, it really was our pleasure! I cannot think of a better family to have started our memory making journey with.
A massive thank you to Jessica and all the staff at The Grange Trekking Centre, who were wonderful from our first phone call and to all the lovely people that have donated to us, we could not do days like this without your support.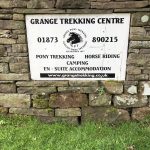 For all the pictures from the day, please see the gallery section of the website