Manchester United Experience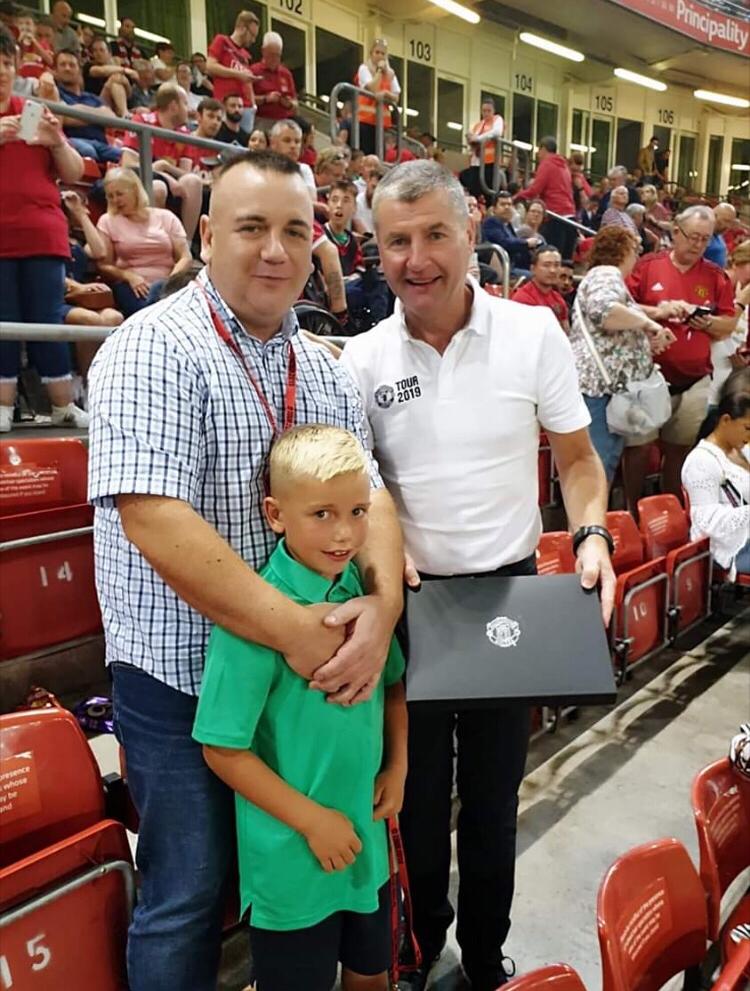 At KOAC, it may seem like we have been a bit quiet since walking out of the air dome after our successful World Record Attempt, our social media may have been going mad and we know the players have been working hard to round up their pledged funds while trying to recover.
But what have our trustees been doing? Well amongst the documenting evidence, goal counting and statistic gathering we have been busy spending some of the money our amazing players and their supporters have raised.
We were recently contacted by a family who introduced us to an 8 year old boy and his father that we could not wait to help. At 8 years old Colby had already watched his sister battle and thankfully beat cancer, and now had found out that his father had stage 3 bowel cancer. His mother Dawn shared with us how tough it had been and how confusing a time it was for Colby.
Colby is absolutely football mad and loves everything Manchester United – a love he got from his father. With the team visiting Cardiff for their upcoming friendly vs AC Milan, we put a plan into action. With input from Dawn we were able to put together a day out that we hoped Colby, David and the family wouldn't forget.
When we got in touch with Manchester United it was in the hope that we might be able to arrange a quick meet and greet with some of the players so that Colby could see some of his heroes. What they helped us with was spectacular.

The family were added to the Manchester United VIP list and were treated to amazing seats for the game along with full hospitality in the Principality Stadium before and after the game. This would have been a great way to experience the game, but at KOAC we like to just add some little touches and Manchester United accommodated brilliantly.
A visit from United legend Dennis Irwin, who presented Colby with a signed Paul Pogba shirt just added the little bit of sparkle to what we hoped was a memorable day for the family. This gave Colby and his dad a chance to share their passion with each other with a little bit of added magic, and as you can tell from their feedback, they were delighted with the experience:
"It is certainly a day that Colby or David will never forget. Colby is aware he is a very lucky boy! I can only thank KOAC for our wonderfully fun and memorable experience.. Our family are experiencing a difficult time for the second time. It's charities like KOAC that make our journey more tolerable during the difficult times".

A quote from the family from a section of the experience feedback form.
A massive thank you to Manchester United matchday VIP for all they have done to help us with this and of course to you – our supporters that continue to be amazing with their fundraising. If you think KOAC can help you or a loved one, please get in touch.
Likewise, if you have a fundraising idea that could raise important donations for KOAC, so we can help more people like David, Colby and their family please get in touch and one of our trustees will run through how we can maximise your fundraising efforts and support you.