Breast Cancer Awareness Month
October is Breast Cancer Awareness Month, a worldwide annual campaign involving thousands of organisations, to highlight the importance of breast cancer awareness, education and research.
More people are being diagnosed with breast cancer than ever before and the disease is still devastating lives on a heart-breaking scale. We've helped people who have suffered from this terrible disease and seen first-hand the life altering effects it can have.
To play our part, KOAC are aiming to raise awareness to as many people as we can during the month and we would like all our supporters to help us spread the message of just how important, simple and easy it is to check yourself.
Checking Your Breasts
If you or someone close to you has been diagnosed with breast cancer, you'll know it's vital that women check their breasts regularly. Sadly, a large proportion of us still don't check our breasts enough, or in fact at all. The first step is to get to know your breasts. Everyone's breasts are different and can change at different times of the month or with age. If you know what is normal to you, you are in a far better position to spot any changes that may need further checking.
Knowing the signs and symptoms of breast cancer can help you recognise and understand what changes to look out for, it is easy to check and only takes a few minutes. Firstly, it is important to understand that there is no right or wrong way to check your breasts. Everyone is different and it is possible for one breast to be larger than the other. Know what is normal for you and at different times of the month, some women experience tender and lumpy breasts around the time of their period.
Feel each breast and armpit up to your collarbone to check for any changes that are not normal to you. You can also stand in front of a mirror to check your breasts. Look with your arms raised and by your side.
If you are forgetful, you can even download an app called Breast Check Now to help remind you when to check.
Last year we helped the family of an amazing woman named Dawn. She has worked incredibly hard on breast cancer awareness and went on to bring the 'Know your Lemons' campaign to the UK which is aimed at outlining the key changes to look for in your breasts: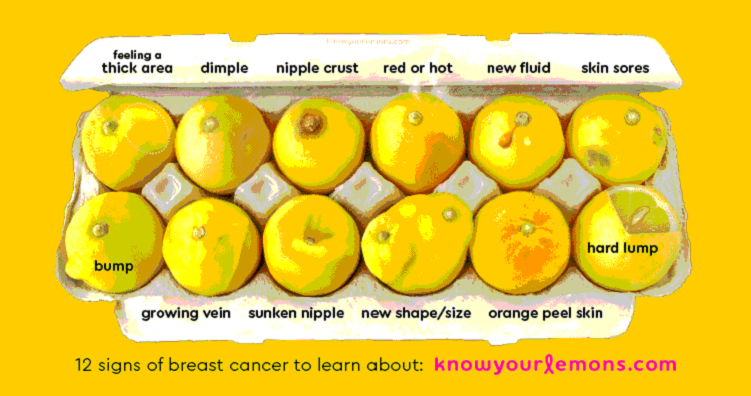 Breast Cancer in Men
Whilst most breast cancer diagnosis are found in females, Breast Cancer can in fact affect men. Around 350 men are diagnosed with the disease each year so follow the below to check yourself: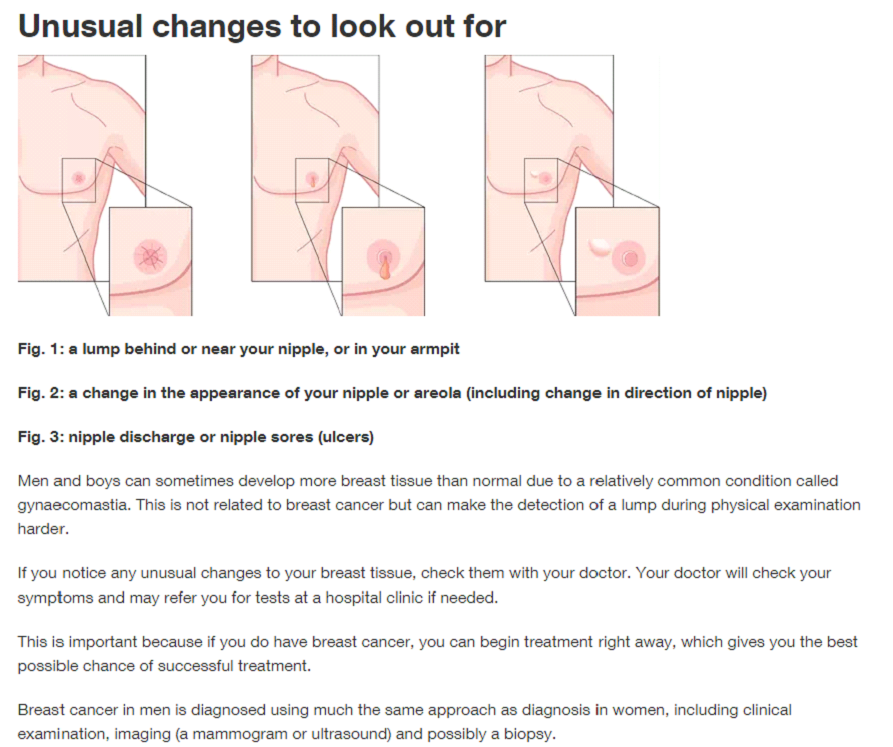 Next Steps
If you notice anything irregular once you've checked yourselves then don't immediately panic and assume the worst. Arrange a visit to your GP or discuss with a healthcare professional. It is always better to have a check over by a professional than do nothing and try to remember that what you tell your health care professional is always kept confidential. It may seem scary and embarrassing to speak to someone about this, remember, it is not unusual to a doctor to discuss intimate problems with their patients and they will put you at ease.
Spread the Message
Show your support for Breast Cancer Awareness Month by using the power of your social media to promote and share the message – encourage others to check themselves regularly. Early diagnosis of the disease can make all the difference.
Fundraising
We've have helped several families over the last two years who have been affected by breast cancer. If you'd like to enable us to help even more people, then you can raise funds for KOAC by the following routes:
Direct donation. – straightforward but always welcomed.
South Wales Marathon – sign up and challenge yourself to run 26 miles and raise funds for us.
Fundraising Skydive – for those thrill seekers reading why not choose us as your partner charity as you parachute from 12,000ft.
Organise your own fundraiser – We love to get behind our supporters' ideas and as you know by now, the crazier the better. If you have a way that you could raise important funds for KOAC, then get in touch so we can help you make it a roaring success.
Support
We are incredibly humbled by the people we meet and inspired by the stories we hear. This drives us to help more and more people. If you would like to apply for funding in order to make memories for you and/or your friends/family, you can fill in an application for help.