2019 World Record Attempt – Longest 11-a-side football match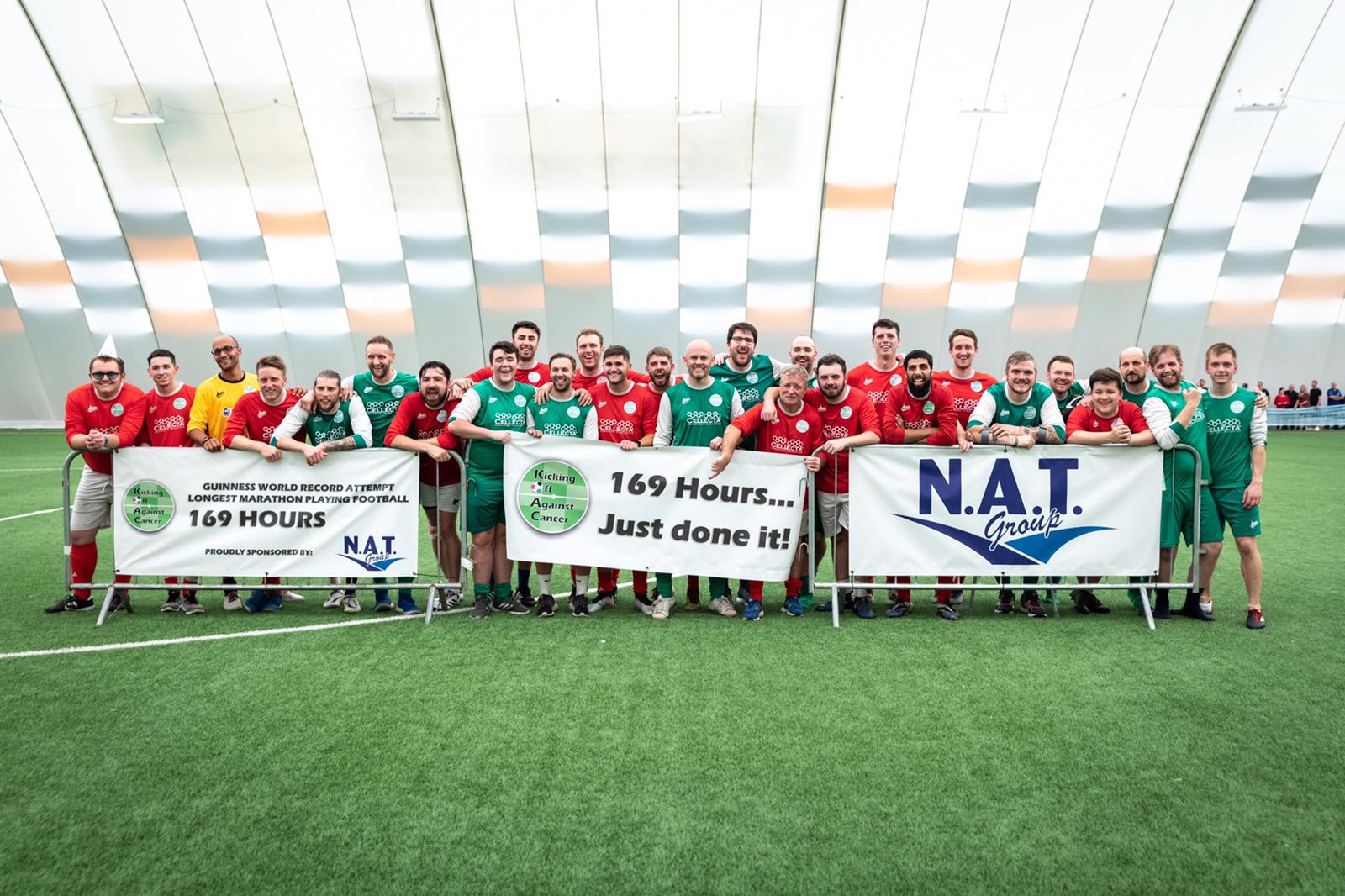 **LATEST EVENT UPDATE**
We did it! We successfully completed 7 days – 169 hours of continuous football! We are currently in the middle of collating the video footage together with the witness log books in preparation to send to Guinness World Records for the attempt to be officially verified, but whatever the outcome, we completed what we set out to achieve – playing football for 169 hours breaking the existing record. See our match report for more details.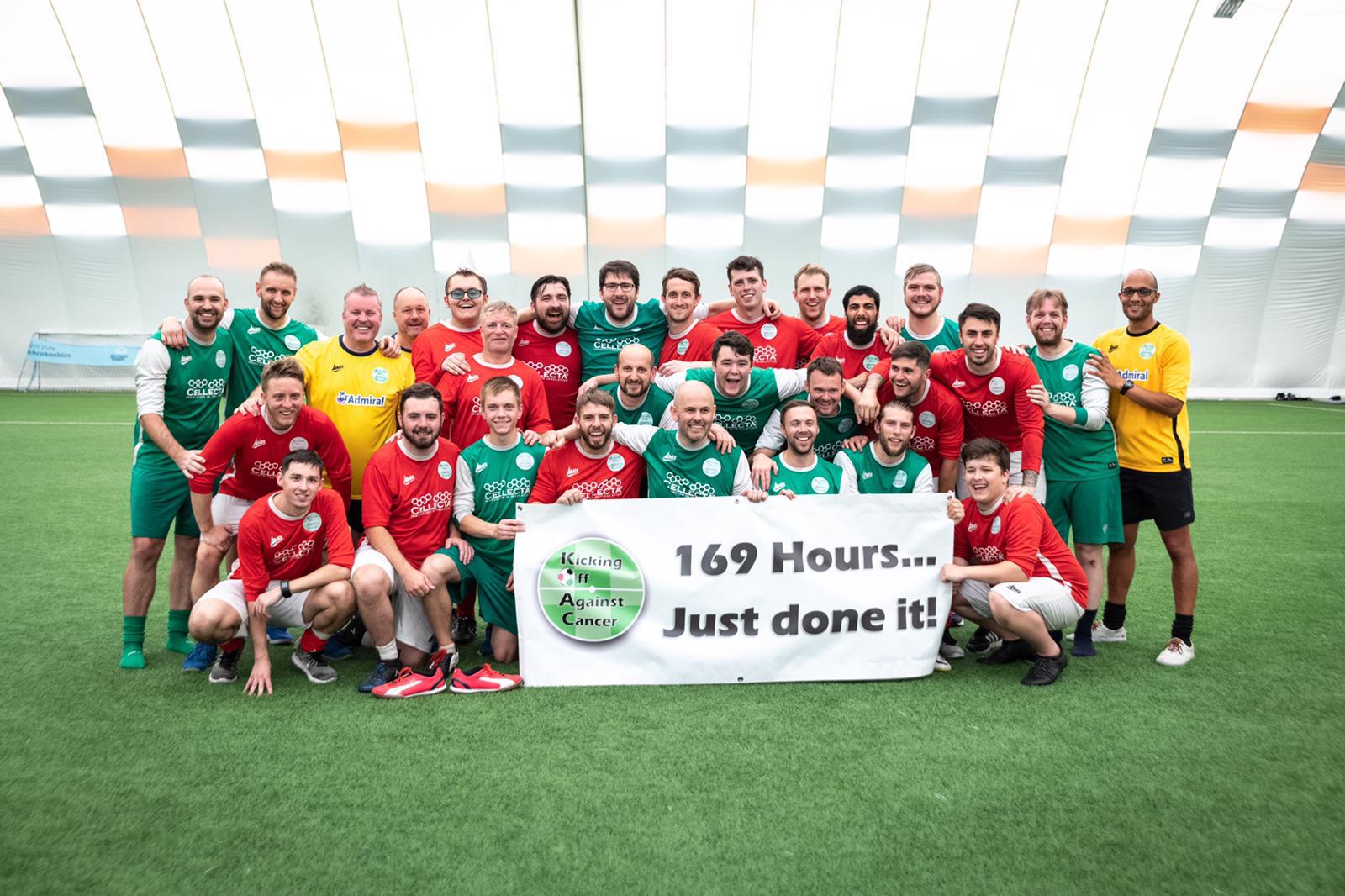 Back in 2016 Kicking off Against Cancer was formed on the back of a successful Guinness World Record Attempt for the longest marathon playing indoor football. Two teams battled it out for 36 hours non-stop under the Kicking Off Against Cancer name.
This led to us founding the official charity and for over a year now we have been fundraising, helping create memories for those
battling cancer, and providing some respite from treatment and the daily fight they endure.
The fundraising we rely on to do this comes in many forms. We are incredibly grateful for all the support we receive and have been very fortunate to have an ever growing band of loyal supporters and heroes aiding us with the work we are doing.
This summer we are organising something that we believe can capture the imagination of our supporters both new and old, in order to raise important funds to help more people and also raise awareness of what we are doing and why.
Event Sponsored by:

On Sunday 14th July 2019, Kicking Off Against Cancer will be attempting to break another Guinness World Record, this time for the Longest 11-a-side Football Match! 36 players will enter The Air Dome, found at Cardiff City House of Sport, Leckwith and play football until Saturday 20th July.
**UPDATE**
We have recently found out that two teams from Germany have recently broken the current official Guinness World Record of 108 hours. They not only played for longer than our planned 135 hours. They played for an incredible 168 hours – exactly 7 days!  (Although their attempt has not yet been officially confirmed by Guinness). A quote contained in the article from the event organiser read as follows:
"We wanted to pack a whole load of hours on the previous record so that nobody would have the idea of ever contesting the title again".
We at Kicking Off Against Cancer have never hidden from a challenge and we weren't about to back out of this one.
Thanks to the consideration of the venue Cardiff House of Sport and the sheer dedication and passion of our players signed up so far, we will now be attempting to break the latest record attempt by playing 169 hours of football from Sunday 14 July to Sunday 21 July!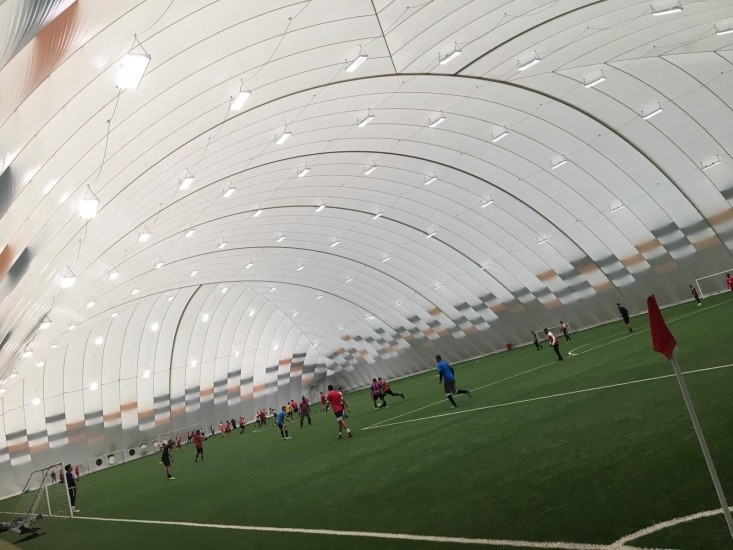 This mammoth task has now gone up a notch. The players will be spending over 7 days playing football in the Air Dome, along with the officials, witnesses and other volunteers – all to raise money and awareness for Kicking Off Against Cancer!
The Board of Trustees have worked hard behind the scenes to get this event off the for over six months. The news that came out of Germany in mid June was far from ideal, but we see this as an extra challenge to overcome. It is nothing compared to what anyone diagnosed with cancer is going through.
However with such a huge challenge ahead, we still really need your help. If you've been thinking of undertaking some charity work or just want to get involved in this unique event, then now is your chance. We still require a few more players, witnesses and officials to cover some of the original timeslots, along with the extra day and a half.
Whether it is volunteering to do some witnessing, lacing up your boots, dusting off your ref's whistle or just simply being a pair of hands to help out. WE NEED YOU!
Donations
You can donate/view our fundraising efforts for this event by clicking here
You can also donate by text message:
Text GWR169 
to 70790 to donate £5
to 70191 to donate £10
Players
Follow this link if you would like to take part in this unique event as a player
Referees/Assistant Referees
Guinness World Record rules state that officially qualified referees must be used for the duration of this attempt, officiating in 4 hour intervals. If you have an up to date refereeing qualification with any football association and would like to take charge of part of this unique match then please click here to apply
Sponsorship
We are also pleased to be able to offer up some exciting opportunities for companies to partner up with us and sponsor the event and have a variety of packages available to suit all budgets. There are numerous local media outlets looking to cover the event so along with the opportunity to help good causes, this represents a great opportunity to gain some real exposure for your business. See our sponsorship information pack here.
Alternatively, if you are interested in volunteering in any other way or know someone that can, please contact us here for more details.
Thank you to our sponsors, partners and those who have made donations of kit/equipment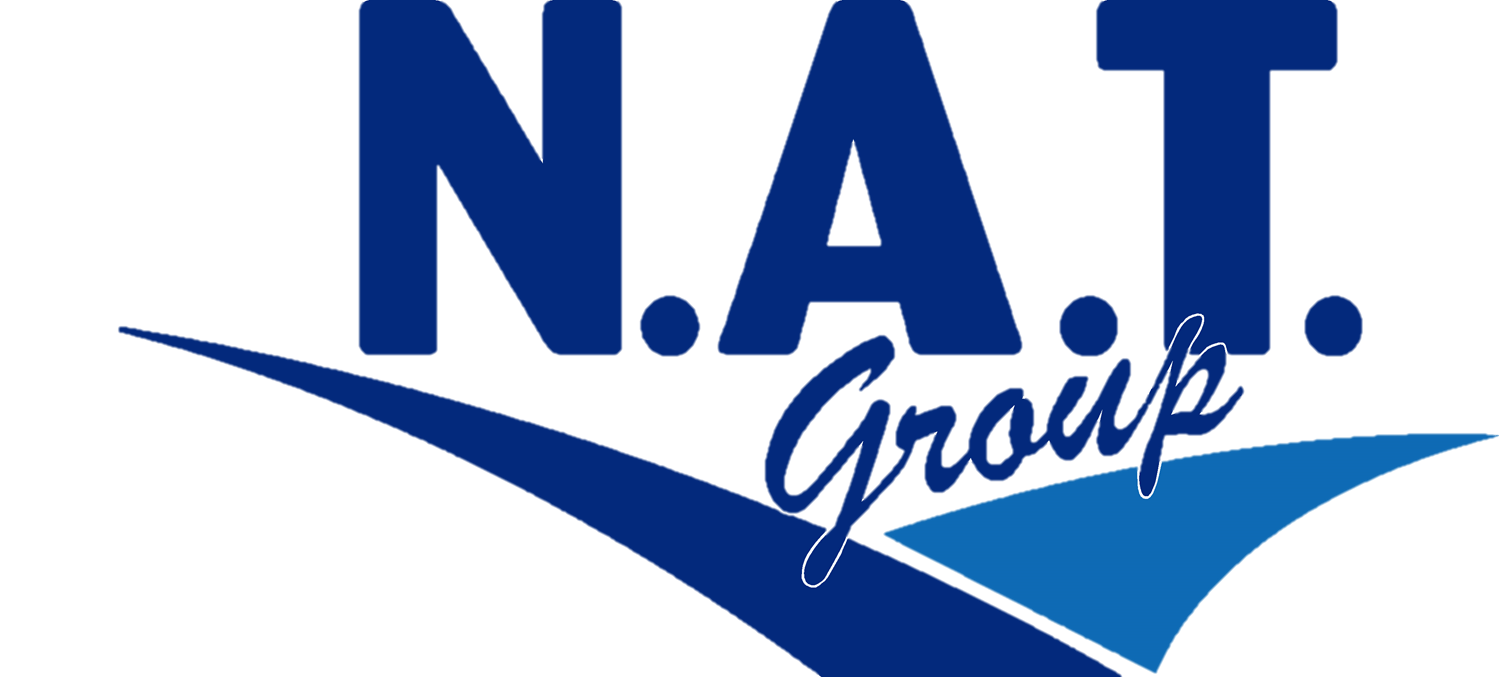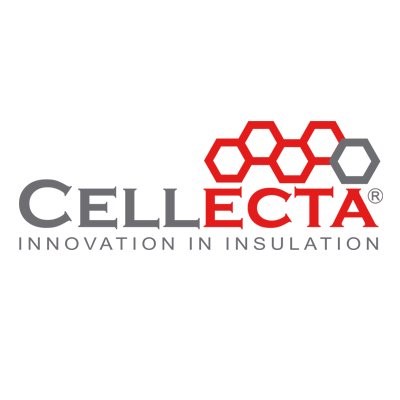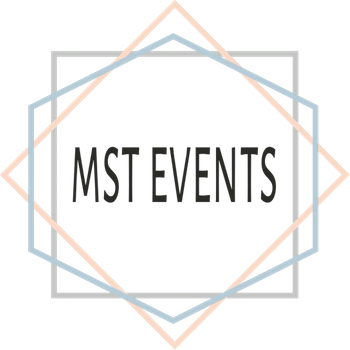 Avigilon; Barr's; Britvic; Caffe Nero; Cardiff City F.C.; Coca-Cola; Costco; Fisiocrem; Ifor Williams Trailers Limited; Lucozade Ribena Suntory; McVitie's; Molson Coors; Morrisons; O.R.S. Hydration Tablets; RPA Group; Starbucks; USW Print and Design; Vimto
Featured image credit: http://guinnessworldrecords.com